Deb Grasham Selected as Fellow of the Litigation Counsel of America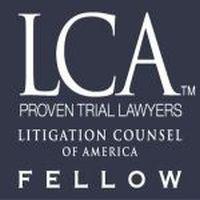 Givens Pursley is proud to announce that Deb Kristensen Grasham has been selected as a Fellow of the Litigation Counsel of America ("LCA"). Deb is a partner in the firm's litigation department and past President of the Idaho State Bar Association. A graduate of the University of California at Berkeley, Deb received her Juris Doctor degree from Santa Clara University's School of Law where she also served as Editor-in-Chief of the Santa Clara Law Review. For more than 30 years, she has represented numerous clients in both federal and state court and has argued before the Supreme Court of Idaho. Deb regularly represents clients throughout Idaho and the region in complex litigation and specializes in employment litigation and media law.

The LCA is a trial lawyer honorary society composed of less than one-half of one percent of American lawyers. Fellowship in the LCA is highly selective and by invitation only. Fellows are selected based upon excellence and accomplishment in litigation, both at the trial and appellate levels, and superior ethical reputation. Established as a trial and appellate lawyer honorary society reflecting the American bar in the twenty-first century, the LCA represents the best in law among its membership. The number of Fellowships has been kept at an exclusive limit by design, allowing qualifications, diversity and inclusion to align effectively, with recognition of excellence in litigation across all segments of the bar.