Chamber USA 2021 Recognizes Givens Pursley's Real Estate and Zoning/Land Use Practice Groups and Lawyers With Highest Ranking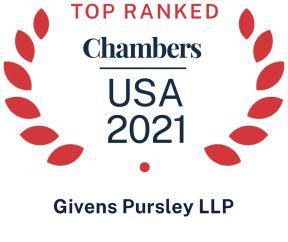 Each year since 1990, London-based Chambers USA undertakes a vigorous review process to identify and rank leading law firm practice groups and attorneys. This year, Chambers USA recognized twenty-two Givens Pursley partners and seven practice groups among the best in the nation. Today, we feature Givens Pursley's Real Estate and Zoning/Land Use practice groups and the entrepreneurial attorneys who work in those areas.
Comprising twenty partners, Givens Pursley's real estate lawyers are some of the busiest and best in the area. We routinely handle some of the most complex and high profile real estate and entitlement work in the region for an ever-expanding, diverse and sophisticated group of clients.
In 2021, Chambers USA ranked the Givens Pursley Real Estate practice group as "Band 1" – the highest ranking possible. In addition, Chambers recognized Christopher Beeson, Franklin Lee, Kimberly Maloney, Edward Miller and Judson Montgomery for their excellence in Real Estate. And, Deborah Nelson and Gary Allen for their work in Zoning/Land Use.