Givens Pursley Mourns the Passing of One of its Founders – Charles McDevitt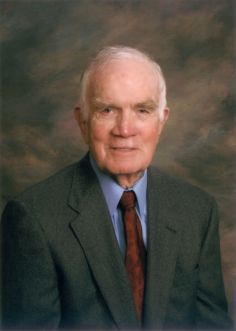 The Givens Pursley family mourns the passing of one of its founding partners, Charles F. McDevitt, who died on Saturday, May 29, 2021. McDevitt's passing leaves a great hole in Idaho's legal landscape and the community.
McDevitt was born in Pocatello, Idaho in 1932. His father, Bernard, was born in Ireland and raised in Idaho and was the Bannock County prosecuting attorney. From early on, McDevitt knew he wanted to be a lawyer. He wanted to leave a legacy, and the law seemed like a good way to make an impact.
McDevitt attended high school in Pocatello and then enrolled at Idaho State University where he took a broad range of classes to prepare for his legal education. He transferred to the University of Idaho after a year and a half. He was active in many student organizations including the Young Republicans and was a member of the Sigma Chi fraternity. While at the U of I, he met his wife Virginia ("Ginny"). They were married on August 14, 1954.
After graduating from U of I in 1952, McDevitt enrolled in law school at U of I. While in law school, he served as student body president. He graduated from law school and was admitted to the Idaho State Bar in 1956. Following graduation, he and Ginny moved to Boise and joined the firm of Richards, Haga, and Eberle where he practiced business law and commercial litigation. McDevitt's intellect soon made him stand out in Boise.
In 1962, Boise Cascade Corp., one of the firm's major corporate clients, asked McDevitt to join them. He accepted their offer and served as General Counsel, Secretary, and Vice President. Even with his many new corporate responsibilities, McDevitt enjoyed litigation and continued to represent Boise Cascade in many trials. Also in 1962, McDevitt was elected to the Idaho House of Representatives on the Republican ticket. He was reelected to the House in 1964. As a legislator, McDevitt was the principle author of the Idaho State sales tax and was involved in many other legislative projects.
In 1968, McDevitt decided he wanted to see how things were done on the East Coast and accepted the position of President at Beck Industries, a large industrial conglomerate, in New York, New York. McDevitt enjoyed the corporate realm because it gave him a chance to work at a high level with quality people while building the business. He liked seeing the organization and its people grow. Two years later in 1970, McDevitt joined Singer Company as Group Vice President and soon moved on to become Executive Vice President.
While he enjoyed his time and work in New York, McDevitt wanted to get back to Idaho and trial work. So, in 1976, he returned to Boise to serve as Ada County Public Defender. In a matter of ten days, McDevitt put together a nine-person firm to help him represent Ada County's indigent. He stepped down as Public Defender in 1978.
The Public Defender's office was in the old library building. Several other attorneys had offices in the building as well, namely, Ken Pursley and Jay Webb. McDevitt thought highly of both attorneys and would often stop by and talk to them. Thus, it seemed only natural for Pursley, Webb, and McDevitt to join forces and form a partnership. The trio approached Ray Givens, a highly respected attorney, to join them, and in 1977, they founded the firm of Givens, McDevitt, Pursley, and Webb, the precursor of what is now Givens Pursley LLP.
One of the things McDevitt enjoyed the most about working at Givens Pursley was the caliber of people he worked with on a day-to-day basis. His colleagues thought highly of him as well. Jay Webb, his partner, had immense regard for McDevitt and thought he was one of the finest legal minds and as good a trial lawyer as the state had ever seen. Starting a firm and building it from the ground up was a challenge, but McDevitt and his partners were up to the task and developed a thriving practice. McDevitt found great satisfaction in hiring young attorneys and watching them grow into fine lawyers.
After 12 years at the firm he help found, in 1989 McDevitt again felt the urge to move on and try his hand at a new challenge. At the time, there were two openings on the Idaho Supreme Court, and McDevitt, dismayed at the number of split decisions that the Court had issued, submitted his name for one of the positions. He interviewed with Governor Andrus, a friend and former colleague in the state legislature. Governor Andrus decided he had the right man for the job and appointed McDevitt along with Larry Boyle to the Idaho Supreme Court.
Justice McDevitt and Justice Boyle started at the Court at the same time, altering the Court's dynamics. Soon, the Court came together and began speaking with a more unified voice. Justice McDevitt found the other side of the bench to his liking, but often thought, "I hope I made more sense than that when I presented oral arguments." Some attorneys focused the issue and helped guide the Court to the correct decision; others did little more than cloud the issues and obscure the law.
When Chief Justice Bakes resigned in 1993, Justice McDevitt was elected as Chief Justice. The increased administrative responsibility added to Justice McDevitt's already formidable caseload, but it gave him a chance to apply his corporate experience to help the Court run more efficiently and effectively.
When McDevitt took on the Chief Justice position, the accounting and management systems for running Idaho's courts had grown outdated. Chief Justice McDevitt drew on his business background to solve these problems and implemented a new real time accounting system so the Court and its administrators could more closely track spending. The system gave the Court daily line item control of budget items. Chief Justice McDevitt also pushed for an increased technology budget and training because he felt that technology could help Idaho's courts run more efficiently.
Chief Justice McDevitt also decided to involve the other Justices more in the administrative process and break down other formalities that had developed over time. Chief Justice McDevitt sought increased communication between the Justices both during conference while discussing cases and outside of conference on a daily basis. These changes proved effective, and soon close to 95% of the opinions the Court issued were unanimous.
After eight years on the Court, Chief Justice McDevitt resigned in 1997. When he decided to join the Court, he had not intended to stay for a long time, and he felt that the time had come to move on to something new. McDevitt left a lasting impact on the Court and the Idaho judiciary. The systems he implemented are still in place.
Following his resignation, McDevitt decided to open a new shop with Joe Miller, former President of the Idaho Public Utilities Commission, instead of returning to Givens Pursley because he wanted to have more time to pursue other interests. During the time that McDevitt was on the Court, Givens Pursley had grown and was now a large firm by anyone's standards. McDevitt decided he would be more comfortable working in a smaller office with less management responsibility.
McDevitt's accomplishments during his career are almost too numerous to list. The sheer number of committees on which McDevitt was asked to serve reflects his stature in the legal and political community. McDevitt served on numerous committees including the Ninth Circuit Grand Jury Reform Committee, the Supreme Court Advisory Committee, the Governor's Blue Ribbon Tax Committee, the Legislative Compensation Committee, Government Ethics Committee, State Select Committee on Campaign Ethics and Campaign Finances, and State Select Committee on Legislative Compensation, just to name a few. He also served in an executive capacity with many organizations including President of the Boise Inn of the American Inns of Court and Director of the YMCA.
McDevitt was very active in the local community and served on numerous state and national boards and committees, including serving as chairman of the Foothills Conservation Advisory Committee, director of the Idaho Foundation for Parks and Lands, President of the Boise Parks and Recreation Commission, and director of the Girl Scouts Silver Sage Council. While still maintaining a legal practice at McDevitt and Miller, McDevitt also enjoyed working on his farm raising alfalfa and honeybees and traveling with his wife Ginny.
For his tireless work on behalf of the legal profession and community, McDevitt received numerous awards and recognition. For example, in 2002, the University of Idaho College of Law recognized McDevitt with its Award of Legal Merit, honoring outstanding University of Idaho College of Law graduates whose career has exemplified integrity, competence, service and leadership in the legal profession, and through service to the progression, community, business, state and national interests. And, in 2012, the Idaho State Bar recognized McDevitt with its highest honor, The Distinguished Lawyer Award, given to those attorneys who have distinguished the profession through exemplary conduct and many years of dedicated service to the profession and Idaho citizens. Residents of Boise may know McDevitt as the namesake of one of Boise's most popular parks, the Charles F. McDevitt Youth Sports Complex located in west Boise at the corner of Eagle and McMillan.

Even with his active career, McDevitt and Ginny found the time to raise seven children: Eileen, Kitty, Brian, Sheila, Terry, Neal, and Kendal. Our sincere and deep condolences go out to each of them.